Gardens are important in providing sensory stimulation to all age groups.  We may therefore wish to provide gardens for children with an area in the garden dedicated to their enjoyment.  However, it is possible to give children fun and stimulation without turning your garden into a kids playground filled with gaudy plastic equipment.  Integration of equipment, using imagination and knowledge of products in the marketplace is key.
Enticing children outside is becoming an increasing priority for schools and parents alike.  As the popularity of computer consoles and digital toys builds it is important that we encourage our children to venture out through the back door more frequently.  The opportunities for exercise, education and play are endless.
Cast your mind back to your own childhood and I am sure you have memories of summers afternoons spent erecting simple dens in the back garden (see our post: Ideas for children's garden: sometimes simple is best…) – the sheet over washing line was a popular one in my household.  This idea was brilliantly executed at Chaumaunt Sur Loire.
With this elegant French picture in mind there are still activities and equipment we can enjoy alongside our children or, dare I say it, without.  Garden swings come in many different guises and who can deny the simple pleasure of a gentle swing from time to time.  Even a hammock suspended between two trees doubles as a swing or somewhere to snuggle up for storytime… or a gin and tonic!
Gardens have been used as a setting for childrens television programmes for some time and still prevail.  'Bill and Ben' have been replaced by 'Teletubbies' and more recently 'In The Night Garden' and 'Mr Bloom's Nursery'.  Our imagination has often created magical places where fairies live at the bottom of the garden, even becoming a national phenomena in the case of the famous Cottingley Fairies hoax. If it is fairies you seek then a visit to The Lost Gardens of Heligan in Cornwall is a must, where beautiful landforms such as the one below have been created nestled in a hidden woodland setting.
In literature, the garden has been a popular setting, from a game of croquet played in a garden where the roses get a lick of paint on the orders of the Queen of Hearts to the more prosaic but no less entrancing garden that features in The Secret Garden. Playing games in the garden doesn't have to stop at kicking around a football, there are now endless options including giant game sets. Hopefully playing these garden games won't end with the cry 'off with your head!'
The setting for 'The Secret Garden' was Misselthwaite Manor, a grand manor house where the garden features as the location that is both destructive and subsequently restorative in the regeneration of the novel's family.  These large estates, often National Trust or English Heritage owned, are still great places of exploration for children.  A number feature mazes such as this one pictured at Hever Castle.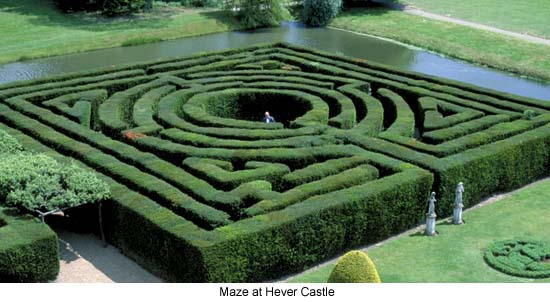 On a smaller scale, fun patterns can be created with planting bulbs in lawns such as this daffodil spiral for example.
Farmers too are cashing in on the pulling power of kids with the creation of maize mazes.
How food reaches our tables is climbing the curriculum in schools and the possibilities for growing fresh veggies in our gardens, however small, are endless.  If space is at a premium then crops can grow upwards, via a wigwam support of canes for runner beans or be suspended and grow downwards like these containers for tomatoes.
Children and adults alike can be impatient so some good crops to grow for sheer speed are cress and rocket.  With cress there's the added fun of growing it from an egg shell for example to make it appear like a head growing a hair-do.  Growing sunflowers or pumpkins as a competition to see whose grows the biggest has the potential for months of fun.  Progress can be recorded on a chart to see how much they grow week by week.
As well as cultivating vegetables and fruit as a way to engage the kids, you may wish to consider the introduction of some livestock.  Nothing too large: we're talking chickens here.  If you do not have the time and energy to construct your own hen house, there are products on the market that do all the hard work for you. Omlet,  for example, offer a full service delivered to your door, even including the chickens themselves.
The role of water in the childrens garden can be as part of a natural water feature such as the garden pond where wildlife can be encouraged.  Children can spend hours inspecting and searching for creepy-crawlies and pond-life is fascinating for adults and children alike.  Alternatively water can be all about fun with products on the market such as splash mats (see Kids water feature : Making a splash… ), in which automated water jets are incorporated into mats featuring colourful designs.   Obviously where water mixed with young children, safety is a consideration. Metal mesh installed just below the surface of a pond or water feature is an option, or if you are not interested in attracting wildlife then filling the water feature with cobbles will increase safety while still providing enough water to splash about in.
Something else that might appeal to adults is the old faithful treehouse.  There can't be a more exciting way of embracing nature than literally climbing up into it.  A treehouse is also suitable for the older child and so there is longevity in the investment.  Older children can also benefit from outdoor rooms.  While they can be a place for adults to dine and relax, teenagers can use them as a place to escape the parents or to hang out in with friends.
In terms of integrating equipment into the garden there are a number of unusual products such as the spider web climbing frames  (see Children garden: Get knotted) or why not create your own frame from which to hang swings, monkey bars or a trapeze.  A sturdy pergola could include an extra arm from which equipment could be suspended.  By thinking laterally a unique childrens garden can be realised.
If you are in the stages of planning a new garden or re-designing an existing one there are various areas to consider with childrens gardens in mind.  For instance as children grow older they enjoy having hiding places away from prying eyes of adults so something simple such as planting a block of bamboo or some shrubs from where children can see out from but the foliage makes it less easy for adults to see into is perfect.  From these vantage points children can enjoy setting up camp.  Levels are another consideration, by simply placing the seating area at a slightly different level from that of the pathways, that the children use to zoom up and down on bikes and trikes, any possibly collisions can be avoided and you can recline at ease.  Trampolines which have a lot more longevity in comparison to other play equipment can be sunken and then therefore easily screened from view.  If you are providing a dedicated childrens area then screening it from view may be an option either through planting or slatted timber screens, mesh screens or Perspex.  The screens allow the area to be masked while still allowing adults to keep an eye on things.  Surfacing is (Garden Flooring for Children: Tyred of the same boring grass…) an issue which should be fully explored.  Amongst the options are bark mulch which will require topping up annually and has the tendency to travel.  Rubber chippings at matting can be colourful or fun but better placed in an area not on full view.  Artificial lawn provides a durable, attractive finish and can be used across the garden.  We have used it in a number of different garden situations, from sleek contemporary gardens to low maintenance family garden.
Soft landscaping in the garden needs to be child-proof or friendly, obviously avoiding poisonous or prickly planting but including robust species that will endure the inevitable knocks as children crash through the undergrowth.
Bunting, flags or banners can be a colourful and fun form of decoration for the garden, turning a plain garden into a funky childrens garden.  If children are a transient part of your life or perhaps you're a grandparent they will make a colourful addition adding movement and texture.  Play equipment and structures do not have to be permanent such as these playhouses created from cardboard (Childrens garden ideas : Cardboard City of Imagination…)  Why not indulge the need to scribble and paint by covering the side of a shed or a old bit of board in blackboard paint.  Alternatively dark slate paving provides a surface for budding artists, chalk scribbles can be removed with the hose or left for nature to wash away.